Hand Crafted Custom Cabinets and Furniture
The Custom Cabinets Professionals
Handmade Bespoke Furniture and Cabinets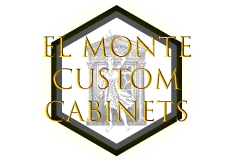 Great design is the cornerstone of elegant and functional custom cabinets. We have years of experience designing, crafting, and installing custom cabinetry in the El Monte area. Our project includes many high end commercial and residential properties in El Monte, California, from the 91731 to the 91780, we provide bespoke furniture that fits in your specific space. All of our cabinets are made by hand and we build cabinets and custom furniture for you kitchen, bathroom, hardwood countertops and more. Our goal is to bring to life our client's vision, and make stylish and space saving cabinets.
Your cabinetry sets the overall mood for your remodeling project and can set the tone for the overall style. Remodeling a property is a milestone event, so getting your cabinets to fit into your overall vision is a significant factor in the remodels success. Our cabinets are made to order right here in El Monte, and we are committed to providing stunningly beautiful and space saving pieces of custom cabinetry. It does not matter if you need full overlay doors, raised panel door style, cherry wood cabinets, we can help you select the myriad of different of options to help you design then build the right cabinets for you. Our attention to detail shows in the craftmanship to make sure your cabinets are contemporary yet unique to your style.
Reach out today and we can start designing the custom cabinets of your dreams. You can work with one of our custom cabinetry specialists to help you express your vision for your home, and we will walk you through the process from design to installation.
Custom Cabinets
Custom Bathroom Cabinets
Custom Media Centers
Hardwood Countertops
Custom Bookcases
Bespoke Bathroom Vanities
More Information
Information about Our Services
Get a Custom Cabinet Made In El Monte
Give your home and kitchen a fresh new look with brand new custom cabinets. Many different types of furniture like cabinets for your home, custom vanities, media centers, built in bookcases and much more. Many of our clients love creating a matching theme for the furniture throughout their home, reach out to one of our carpentry specialists to get the planning process started. At El Monte Custom Cabinets we pride ourselves on customer service, and we strive to turn your vision into a beautiful new living space.
What Is Our Process?
A. Start the Planning and Provide and Initial Estimate
The first step is speaking to an expert craftsmen at El Monte Custom Cabinets about exactly what you want from your custom cabinetry. One of the best ways to reach out to us is by emailing the architectural drawings and rough sketches with dimensions and specs. Through this first phase of analysis, we start developing the initial estimate. This will begin the planning phase, and we can assist you with making the final decisions on what you want.
B. Finalizing the Design
During the design phase we will start creating the design based on your input and feedback. You provide us your input and feedback through phone or email, and we can get the exact measurements of your place onsite. At this time we can confirm the final plans, nail down an approximate end date for the project, and we will know the materials we need. At the end of this phase we will know the cost of the project.
C. Final Draft and Deposit
We now provide a payment schedule since we will understand the scope and materials that will be necessary to deliver. The payment process is scheduled to match with the steps of the processes, the production of the cabinetry, and the on-site installation.
After you have given the final confirmation on the plans and submitted the first payment, your project is placed in our schedule. This is followed by a set of drawings that will show the final measurements and materials. Our procedure was created to guarantee that we have a complete awareness of what you want, and to have an exact plan and schedule for delivering your cabinetry in a timely manner. All we need here is your confirmation, and we begin the building process!
D. Fabrication and Installation
This is where everything comes together. This is where we start crafting your cabinets at our location in El Monte. Once the fabrication phase is completed, we will transport everything to your property for the final installation. You will receive your final bill after the conclusion of the installation process, typically taking between 3 to 8 weeks. The project's overall turnaround time depends on the scope of work, which includes design, details, materials, time, and labor.
Colors, Finishes, and Stains
In addition to the style of your cabinet doors, the size and shape, the type of materials, you can also add more character by choosing a finish. A finish is used to process the surface of the wood to give it a few desirable characteristics, such as improved protection and durability, and changes to it's aesthetic.
Waterborne finishes are environmentally friendly, enhances the durability of the wood, and can maintain a neutral transparent color, which is excellent if you want to keep the natural appearance of your cabinet. Waterborne finishes are fast drying and can mirror the look of many other stains and finishes. If you are a person that really values environmentally friendly solutions, waterborne finishes might be the right choice for you.
Glaze finishes can add additional texture and color to the surface of your cabinets, and can be brushed right on top of cabinets that have been painted or stained. If you like the look of a high gloss finish, glazing your cabinets can give the wood a nice shine, as well as add a protective layer. Painted cabinets will simply add a different color over the wood, covering any of the natural patterns of the wood. Many modern cabinets utilize a flat white color over the wood. At El Monte Custom Cabinets we will take you step by step through all these different finish options, to make sure you get exactly what you are looking for.
We're Here To Answer Your Questions
Reach out today to speak with a cabinetry expert, or if you want to setup an appointment to get a quote on your next project.
Bath Cabinets and Vanities
Custom vanities and bath cabinets can spruce up the look of your bathroom and vastly upgrade the storage space you have. While you are coming up with the design for your bath cabinets, you can come up with a list of all your storage requirements. Do you need the space for makeup application built into your vanity? Do you have an abundance of items in your bathroom, and would love to have as much storage space as possible? Do you need a place to store different towels? After we've itemized your needs, we can build the perfect bathroom cabinetry that looks great in your house, and fulfills all your storage need.
We can even customize bathroom vanities to add much more storage space, installing drawers of all imaginable sizes and shapes to help you get an uncluttered feeling in your bathroom. A handmade custom vanity or bath cabinet can turn your bathroom into a luxurious, uncluttered, relaxing environment. Your bathroom should be an elegant sanctuary, where you can unwind with a nice warm bath to forget all the problems of the day.
Custom Cabinets for Your Kitchen
If you are the type of person that is frequently in your kitchen, than having an elegant and orderly space to cook and hang out could greatly improve your quality of life. At El Monte Custom Cabinets we are here to help you get the most out of the specific layout in your home and using kitchen cabinets to add a decorative element to your homes, as well get the most out of your storage space.
The experienced staff at El Monte Custom Cabinets integrates your ideas, with maximum storage and functionality, and fabricating kitchen cabinets with only the finest hardwood to build the kitchen of your imagination. Our attention to detail and timely delivery has resulted in countless satisfied clients, who now have one-of-a-kind cabinets in their homes. El Monte Custom Cabinets is here to walk you through the endless personalization available, from the wood selection, wood finish, hardware, door styles, wood selection, finish, and more.
Like other aspects of home renovations, kitchen cabinets have continued to progress over time. Thus, when it comes to upgrading your kitchen and furnishing it with the latest designs, it is ideal to opt for a choice that satiates your style and taste, can appreciate your value of your home, and potentially outlast fashion trends.
Different Styles of Cabinet Doors
A large part of the appearance of a cabinet is the type of door it has, so choosing the right door is important if you wanted to achieve a certain look. There are two major factors you should consider when choosing a cabinet door, the orientation of the cabinet door, and the style of the cabinet door. Each will have a large impact on the character of your cabinet.
How Your Cabinet Door is Placed on the Frame
A full-overlay cabinet door completely covers the front face of the cabinet, and consequently provides more storage space. Because the frame of the cabinet is completely covered, this causes a sleek look between the cabinets which is predominant in the current style.
Inset doors have the cabinet doors sitting on the inside of the cabinet frame. Sometimes you will see the hinges on the outside, and this requires precise craftmanship.
Partial overlay cabinets expose more of the frame, with about 1" to 2" of the frame exposed.
The Differences in Cabinet Door Styles
Raised panel doors have a center panel that is raised for design purposes. This is a very common look for cabinet doors, and is used both in traditional and modern cabinet designs.
Open frame doors have a glass front similar to the mullion frame doors, but lack the bars that create panes.
The slab door is just one piece of wood, literally a slab of wood that is used often with the full-overlay layout.
Recessed panel doors have a flat panel with a raised border around it, which creates the appearance that the face of the door is slightly recessed into the cabinet. This style is used often in contemporary cabinets, and offers a lot of options when it comes to design.
Mullions are dividing bars that separate the frame of the door. The mullions hold up panes of glass similar to a window frame.
Custom Cabinets in Anaheim, CA
If you are located in Anaheim, California, then call our partners Shepard Custom Cabinets in Anaheim. They offer professional cabinetry services, and specialize as custom cabinet makers. Whether you're looking for a custom entertainment unit, bathroom remodeling, kitchen remodel, office cabinetry, kitchen cabinets, new cabinets they can get the job done. Just like us, they provide the highest quality custom cabinet service, and will always do a great job on any remodeling project. With many years of experience, they're ready to work together with you to renovate your dream home. Whether your located in Santa Ana, Garden Grove, Huntington Beach, or in or near the Orange County area, get a free quote from them today.